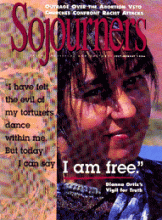 Dianna Ortiz (Sept. 2, 1958 – Feb. 19, 2021) died early this morning on 19 February 2021, after a brief recurrence of cancer. She was a member of the Catholic Ursuline order who lived for 25 years at the Assisi Community in Washington, D.C. She was was 62.
I knew Dianna from her early days to bring justice around her own kidnapping and torture in Guatemala (see Death's Dance Broken). And celebrated Thanksgiving and Easter Mass with her at Assisi Community whenever I could. She continually clawed her way back into life. Dianna rose with her scars intact as her book The Blindfold's Eyes: My Journey from Torture to Truth (2004) attests–and went on to conquer death for others, especially through her work on international human rights law and the founding of the Torture Abolition and Survivors Support Network International and more recently with Pax Christi USA. She was tender and astonishingly strong. Dianna is what resurrection looks like. Her Assisi community member, friend, and priest, Joe Nangle writes about Dianna's last days. I'm so grateful she was not alone. (Read The Washington Post obituary for Dianna Ortiz. And a timeline of Dianna's life.)–Rose
FROM JOE NANGLE: Falling Into the Arms of a Loving God–Remembering the Last Days of Dianna Ortiz, OSU
To write about the final days of Sister Dianna Ortiz's life is beyond sad. For those who have not heard, Dianna passed away early this morning after a short illness; my apologies for conveying word of it in such an impersonal way.
Actually, her illness and devastating diagnosis of an inoperable cancer has taken place almost too quickly to comprehend at this moment. Three weeks ago a member of our Assisi Community – of which Dianna has been a part for 25 years – insisted that she go to an emergency room for persistent and increasingly painful stomach pain. In rapid succession, Dianna was hospitalized, discovered to have a serious abdominal blockage and biopsied, revealing the cancer. She was designated for chemotherapy to reduce the tumor but when her symptoms continued to increase, she underwent surgery and the inoperable status of the cancer was discovered. All in less than three weeks!
It is said that our parents' final legacy is their acceptance of death. Surely this can be said of anyone close to us who walks bravely through the dying process. It is most certainly true in the case of our dear sister – friend – community member – and exemplar. After the initial shock of this rapid series of events, Dianna seemed to call on a deep well of faith, acceptance and resignation as she faced the inevitability of her situation.
Continue reading

"Joe Nangle: Falling Into the Arms of A Loving God"